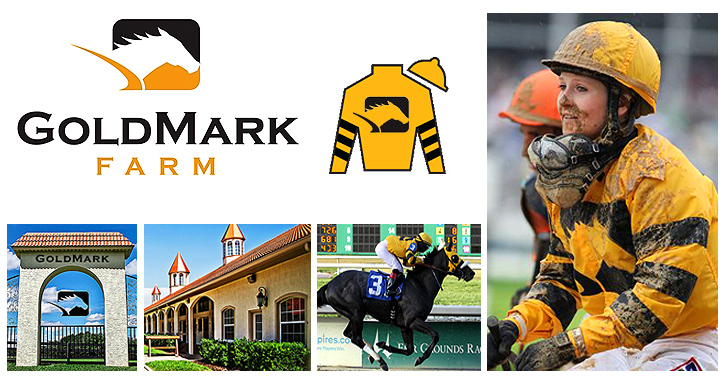 When jockey Rosie Napravnik guided three-year-old thoroughbred Mylute to a fifth-place finish in the 2013 Kentucky Derby, she wore the silks of GoldMark Farm, a full-service state-of-the-art training center in Ocala, FL, where the racehorse was developed. Designed and run by professional horsemen, GoldMark Farm is dedicated to the utmost comfort and safety of every thoroughbred and is committed to their optimum performance at the track.
Challenge: The name GoldMark was created to reflect the highest level of Olympic achievement and to celebrate the inspiration for the facility: the owner's friendship with the emeritus CEO of Maker's Mark Distillery. GoldMark Farm asked us to create an identity that would express their ideals and the environment in which their equine prospects are raised and trained.
Solution: Rendered in the GoldMark Farm colors of gold and black, the logo represents the shoulder muscles and blowing mane of a racehorse, depicting the power and speed of a thoroughbred in full stride crossing the finish line. The space beneath the image of the head echoes the rolling landscape of Ocala, an excellent environment and climate for thoroughbred horses. In addition to the jockey's silks, the logo is used on GoldMark Farm signage and web site.

For more than 40 years, Artisan Field has helped businesses communicate effectively through evolving visual media. A multi-disciplinary graphic design and marketing communication firm, Artisan Field has attracted a diverse client base, ranging from start-up businesses to Fortune 500 corporations across multiple industries worldwide