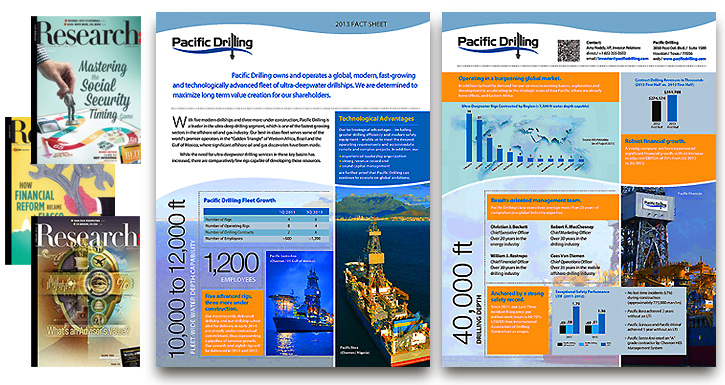 Pacific Drilling is an active participant in the rapidly expanding ultra-deepwater oil and gas exploration market, where it operates the world's newest, fastest growing and most technologically advanced drilling fleet. The company has long-standing relationships with major operators, including contractual commitments for drillships currently under construction.
Challenge: In order to expand its retail investor base, Pacific Drilling purchased space in the Investor Fact Sheet section of Research Magazine, which reaches more than 90,000 financial advisors and individual investors. Pacific Drilling needed an Investor Fact Sheet that would highlight its financial performance, discuss corporate strategies and stand out from the competition.
Solution: Because each Investor Fact Sheet is limited to one page, front and back, we designed a space-economizing magazine-style format consistent with the Pacific Drilling brand. This enabled us to draw attention to important facts and figures through charts, photographs and highlighted narrative. The fact sheet incorporates a comprehensive look at the company's overall strengths almost at a glance, including corporate and financial profile, market advantages, fleet statistics, key leadership and safety commitment.

For more than 40 years, Artisan Field has helped businesses communicate effectively through evolving visual media. A multi-disciplinary graphic design and marketing communication firm, Artisan Field has attracted a diverse client base, ranging from start-up businesses to Fortune 500 corporations across multiple industries worldwide