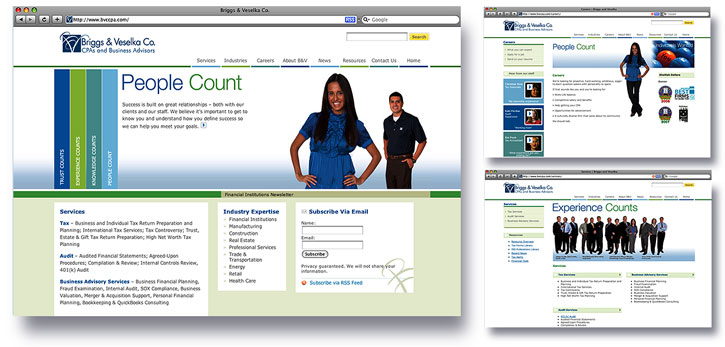 Our approach to a new web site for Houston financial services advisor Briggs & Veselka was anything but by the numbers.
Challenge: Although the 140-employee company has been in business since 1973, Briggs & Veselka felt it needed stronger branding and a better web presence. Reaching existing clients, generating prospects and attracting qualified job candidates were all goals.
Solution: In order to differentiate Briggs & Veselka from competitors, we emphasized the value the company places on its relationships, rather than just touting its services. The brandline we developed, Trust Counts ™, reflects the importance Briggs & Veselka places on building confidence among its clients. To create consistency, we headlined each subsequent landing page with a similar phrase that describes other strong company attributes: Experience Counts, Knowledge Counts and People Count.

For more than 40 years, Artisan Field has helped businesses communicate effectively through evolving visual media. A multi-disciplinary graphic design and marketing communication firm, Artisan Field has attracted a diverse client base, ranging from start-up businesses to Fortune 500 corporations across multiple industries worldwide.