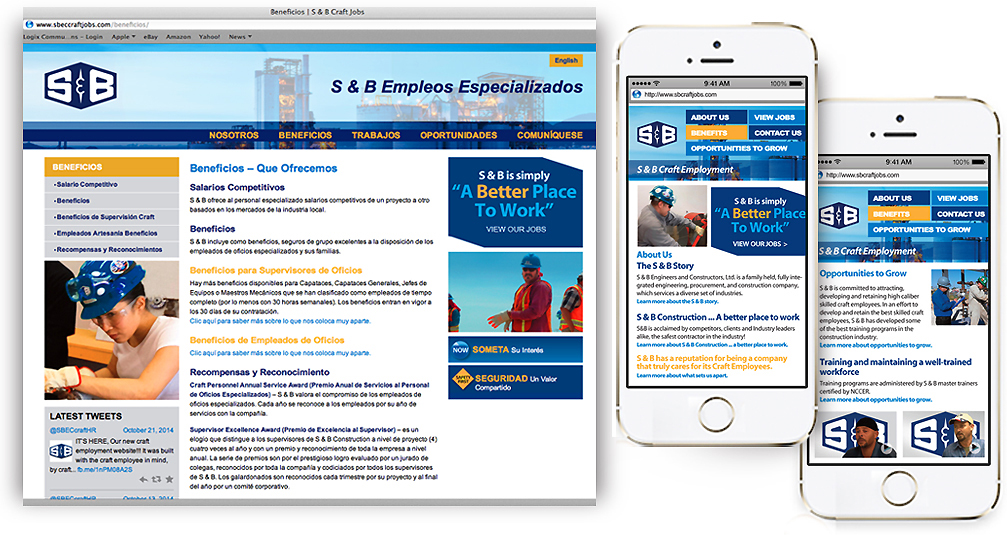 S & B Engineers and Constructors, Ltd. is a fully integrated engineering, procurement, and construction company founded in 1967. The company serves diverse industries, including refining, petrochemical and chemical, midstream, power, infrastructure, and pulp and paper. S & B has built its business on high ideals, including an unwavering commitment to personnel safety.
Challenge: S & B sought to reach the highly competitive market of skilled craft workers through a dedicated website that would allow candidates to view and easily apply for jobs. In addition, S & B wanted to be able to communicate with their current team of craft employees, many of whom spend most of their days in the field.
Solution: Artisan Field developed a dedicated employment website, available in English and Spanish, that can be accessed on web-enabled phones. The new site is welcoming yet professional, and provides current and prospective employees with a sense of S & B's values, standards and reputation as a company that truly cares for its craft employees. Under the banner, "A Better Place to Work," are easy-to-navigate categories that help users find the information they're looking for, from benefits and training to job openings and opportunities to grow. Employee testimonials provide a frank and compelling view of the company and the merits of working there, while a twitter feed of job postings allows visitors to access the very latest information.

For more than 40 years, Artisan Field has helped businesses communicate effectively through evolving visual media. A multi-disciplinary graphic design and marketing communication firm, Artisan Field has attracted a diverse client base, ranging from start-up businesses to Fortune 500 corporations across multiple industries worldwide