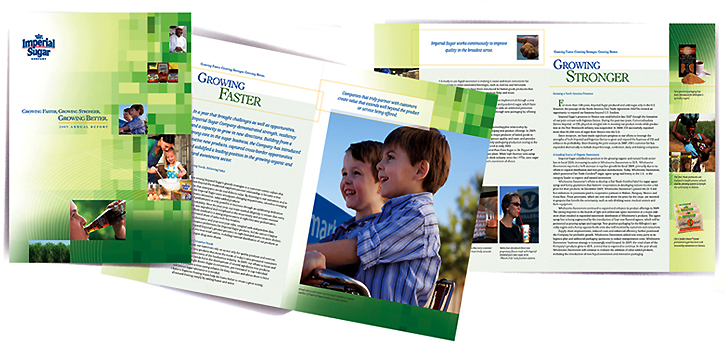 When you're a venerable company with a history extending back more than a century, how do you demonstrate your resiliency in a year of challenges and show investors that you're ahead of the market? If you're Imperial Sugar, you produce a financial report that focuses on the innovations and opportunities that distinguish you.
Challenge: Imperial Sugar is the oldest continuously operating company in Texas, dating to 1834. One of the largest producers and marketers of refined sugar in the NAFTA region, Imperial Sugar asked us to create a report that would trumpet how its 2009 milestones will contribute to the company's future growth.
Solution: We built the annual report upon a theme that encapsulated the company's key strategies – Growing Faster, Growing Stronger, Growing Better – then divided the narrative respectively. The Faster portion discussed creative products that have accelerated entry into new grocery categories; the Stronger segment highlighted both Imperial Sugar's expansion beyond domestic borders and its increasing stake in Fair Trade products; and the Better section touted the company's technological and safety accomplishments in transforming its refinery operations.

For more than 40 years, Artisan Field has helped businesses communicate effectively through evolving visual media. A multi-disciplinary graphic design and marketing communication firm, Artisan Field has attracted a diverse client base, ranging from start-up businesses to Fortune 500 corporations across multiple industries worldwide.