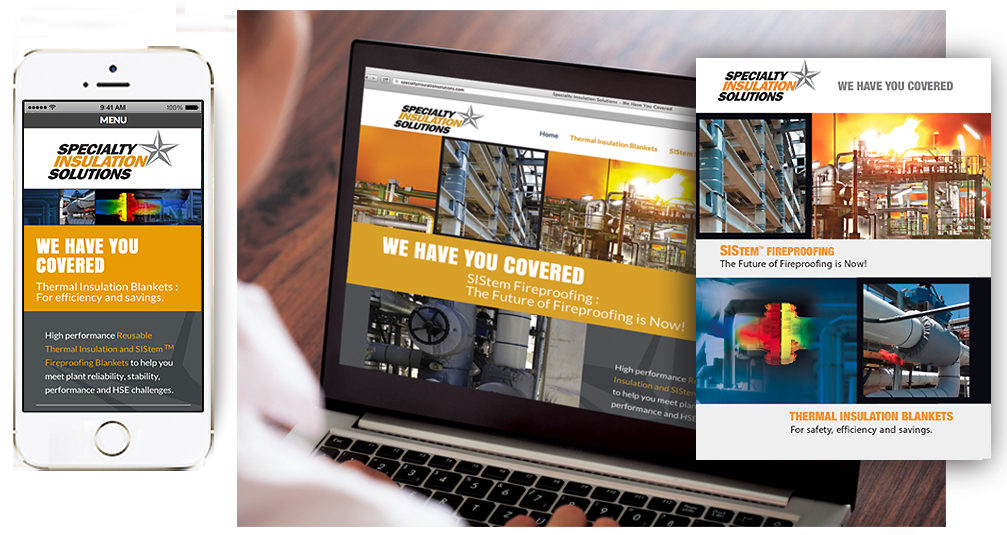 Specialty Insulation Solutions protects the assets of clients in the oil and gas, petrochemical, power generation, and other industries through proprietary thermal insulation and fireproofing systems. The company is considered cutting-edge in terms of technology, manufacturing capabilities and service, but its existing marketing materials didn't adequately communicate its market leadership.
Challenge: As part of a comprehensive marketing effort, Specialty Insulation Solutions required branding, an improved online presence and mobile site, and print materials that better reflected its customer base, technical strengths and customer benefits.
Solution: Our marketing team conducted a comprehensive assessment of Specialty Insulation Solutions' business that included interviews with executives and staff as well as a global review of market data. Based upon that insight, we began to refresh their marketing materials, starting with an update of their corporate identity. Our goal was to retain the equity associated with the existing logo while establishing a more modern design and a typographic treatment that called greater attention to the company's business. Next, we developed the theme, We Have You Covered, to refer both to Specialty Insulation Solutions' product lines and comprehensive customer care. Finally, we wrote and designed electronic and print materials that are bright, exciting, easy to use and read, and set the company apart from its competitors.

For more than 40 years, Artisan Field has helped businesses communicate effectively through evolving visual media. A multi-disciplinary graphic design and marketing communication firm, Artisan Field has attracted a diverse client base, ranging from start-up businesses to Fortune 500 corporations across multiple industries worldwide