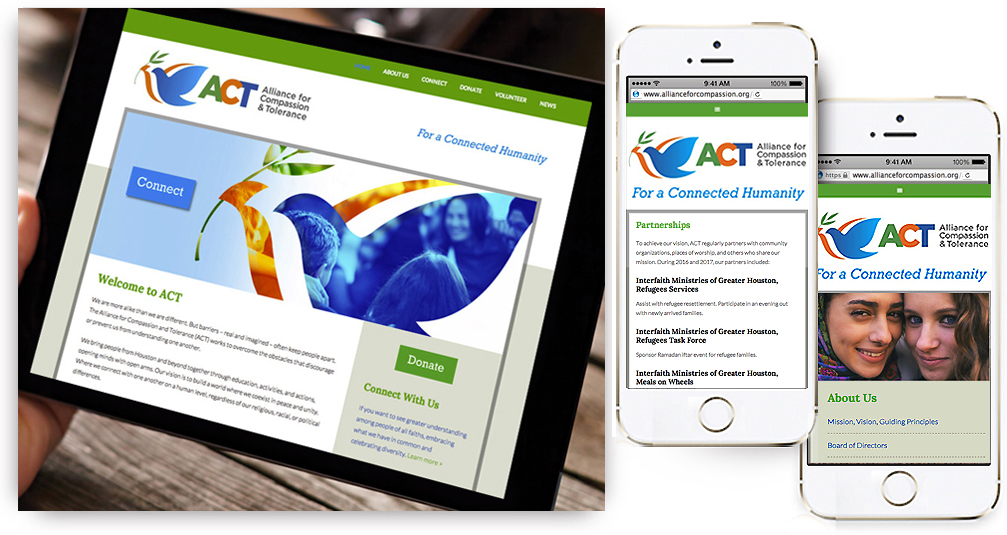 Inspired to build a world where people coexist in peace and unity, the Alliance for Compassion and Tolerance (ACT) provides educational and other opportunities to help people connect with one another on a human level, regardless of their religious, racial or political differences.
Challenge: ACT's website was cumbersome to navigate, particularly on mobile sites. It did not adequately communicate the organization's mission, goals, the breadth of its activities, or the level of its involvement in Houston's interfaith community.
Solution: We began by developing a tagline that expressed ACT's focus: For a Connected Humanity. Once that was in place, we designed and wrote a simple, clean, warm and welcoming site consistent with ACT's identity and purpose. The improved layout helps visitors quickly find news, events and opportunities to volunteer and donate, and provides a format to highlight activities of broad interest, such as a book reading and signing of "How to be a Muslim: An American Story," by Haroom Mughal, and a breakfast talk by James R. Doty, MD, author of "Into The Magic Shop." Photographs and testimonials from ACT board members create a more personal experience for the visitor.

For more than 40 years, Artisan Field has helped businesses communicate effectively through evolving visual media. A multi-disciplinary graphic design and marketing communication firm, Artisan Field has attracted a diverse client base, ranging from start-up businesses to Fortune 500 corporations across multiple industries worldwide