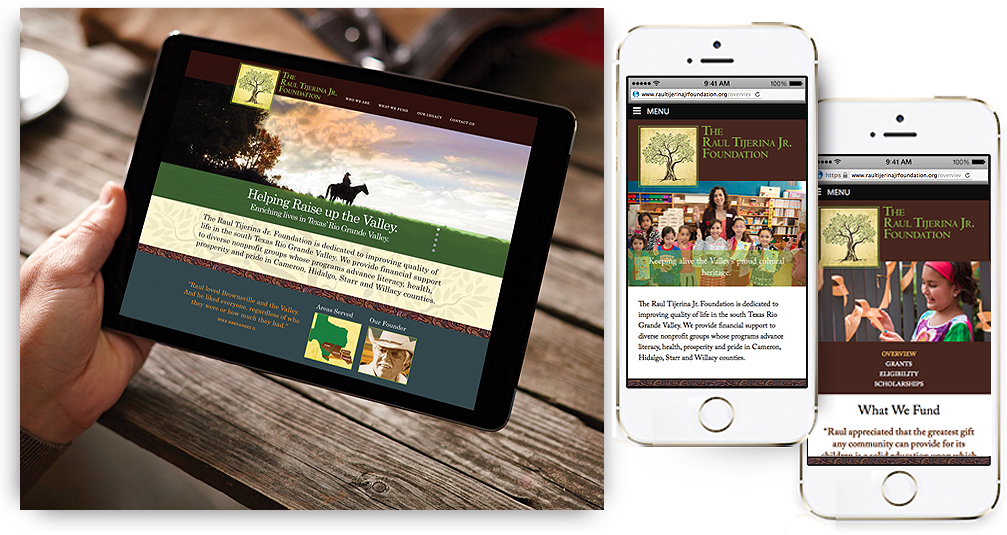 For more than a decade, the Raul Tijerina Jr. Foundation has provided grants and scholarships to support literacy, health and economic advances in the south Texas Rio Grande Valley.
Challenge: In order to enhance accessibility to its audience of grant and scholarship applicants, including high school and college students who are digital natives, the Foundation needed a responsive website – one that is easily read and navigated on multiple devices, from desktops to mobile phones.
Solution: Improving the site's functionality was only part of the strategy we developed for the Foundation. We also saw this as an ideal time for the organization to refresh its brand and sharpen its message. First, we captured the Foundation's mission with a new theme, Helping Raise Up the Valley, then focused on grant and scholarship recipients to show generosity in action. Quick links make it easier than ever for candidates to locate and complete grant and scholarship applications. Overall, the look is vibrant and compelling, a reflection of Mr. Tijerina's hopes for the region he loved.

For more than 40 years, Artisan Field has helped businesses communicate effectively through evolving visual media. A multi-disciplinary graphic design and marketing communication firm, Artisan Field has attracted a diverse client base, ranging from start-up businesses to Fortune 500 corporations across multiple industries worldwide